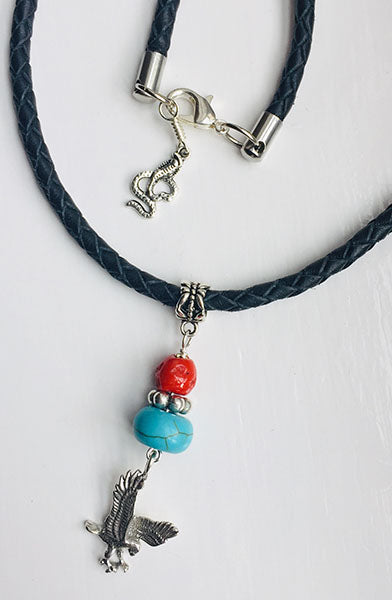 Her Vet Fest
My Planet Jewel Designs
MPJ created a His & Her Necklace Set to donate to Vet Fest Illinois for part of their fundraising efforts. All materials for these necklaces are from the USA.
Please visit https://www.facebook.com/events/221041945351856/ to find out more details on going to the event or supporting in some way. It's a great organization doing great things for our veterans. Some of the most generous, good-hearted people I know organize and work this annual event. Please check it out.
Her Vet Fest Necklace features a gorgeous Sterling Silver American Eagle. Strung on a handmade 5mm 18" braided black leather cording, her eagle is hanging from a silver plated bale with nice chunky pieces of turquoise and coral. Stainless Steel closure with snake accent charm compliment the overall design.